Superior Pest Management For Your Frisco Home Or Business
Frisco is a great city conveniently located just 28 miles north of downtown Dallas, and 47 miles northeast of downtown Fort Worth. It's filled with friendly people, and family fun, and it's a great place to settle down here in the DFW Metroplex. Unfortunately, pests also think so. These intruders are present all year long here in Frisco, which puts our homes and businesses in jeopardy of experiencing pest infestations. If you want to protect your property from an infestation, you've come to the right place.
Mayco Pest and Termite Control is here to provide you with the best residential and commercial pest control services in the area. Since 2010, our family owned and operated company has been protecting properties throughout Collin and Denton Counties and the surrounding areas, offering year-round pest control that the local community can count on. Our qualified North Texas pest control team has experienced technicians who are up to date with all the latest industry advancements. We guarantee results you can feel good about, so call us today for your free estimate.
Home Pest Control In Frisco, TX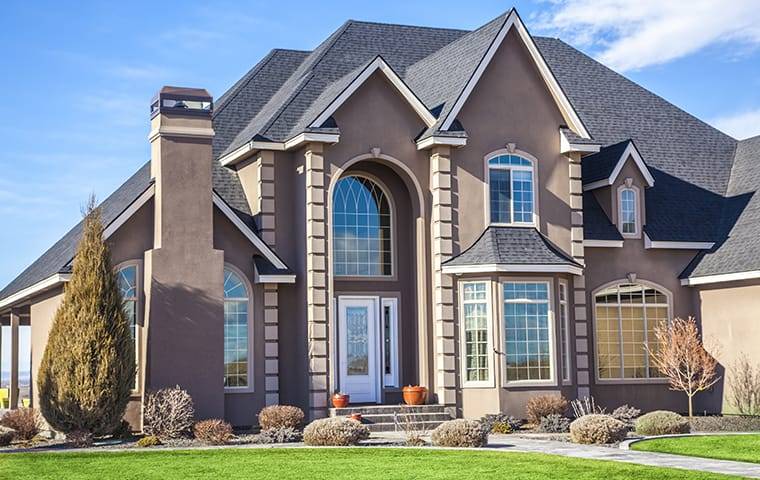 The most effective way to protect your Frisco home from the dangers of pests is to rely on a team of trusted pest professionals. That's where we come in. The Mayco Pest and Termite Control team has serviced over 500 local homes with complete household pest control coverage. Some of our services include:
Interior
Flush out active areas, treat all rooms, entry points, and hiding areas

Treat underneath furniture, behind appliances, doors, windows, baseboards, plumbing voids, and under sinks

Perform liquid/dusting treatments
Exterior
Sweep eaves to remove webs and nests

Treat around doors, windows, and foundation

Granular lawn perimeter treatment eight feet from house

Landscaping, mulch beds, and yard mound services
Our pest-free guarantee gives you the comfort of knowing you have complete coverage from infestations. We utilize proven IPM (Integrated Pest Management) solutions to tackle the heart of your infestation, eliminating all pest activity from the inside out. Reach out to us today to discuss your residential pest control needs, we're here to help you.
Commercial Pest Control In Frisco, TX
It's hard running a business, and there's no doubt things become even more complicated when pests enter the picture. That's why we suggest professional commercial pest control services that local business owners can depend on. We're proud to protect over 200 local businesses from the threat of commercial infestations. We work with a long list of facilities, some of which include apartment complexes, bakeries, daycares, nursing homes, dental offices, and warehouses.
No matter your pest problem, we customize treatment plans to fit the needs of your business. After we finish servicing the premises, we provide monthly follow-up services, or as often as your business needs or prefers. Get in touch with us to secure ongoing pest protection for your Frisco business.
How To Reduce Mosquitoes Around Apartment Complexes In Frisco
If you run an apartment complex here in Frisco, your tenants will not be happy if mosquitoes are all over the premises. Unfortunately, it's a common issue that most Texas property owners have to face at some point. Mosquitoes are vector pests that pose a serious threat to your health, seeing as they can transmit a long list of diseases through their bites. Here are some effective preventative tips to help you protect your apartment complex from experiencing a mosquito problem:
Eliminate any sources of standing water.

Fix any damaged or ripped screens.

Keep your landscaping well-trimmed.

Maintain gutters and downspouts to divert water away from the buildings.

Use window and door screens to prevent entry.
While these tips are a great place to start, the fact is that no method of mosquito control is as effective as help from pest professionals. You and your tenants deserve the best protection possible, and Mayco Pest and Termite Control is here to help. We're here to address all of your mosquito control and prevention needs in Frisco, TX, so give us a call today and we'll get started.
The Dangers Termites Bring To Frisco Homes
Termites may be small, but they can cause large-scale destruction to your Frisco home. The NPMA estimates that U.S. property owners spend five billion dollars on termite repair and prevention services every year. These little wood feeders eat and burrow through damp, rotting wood, creating intricate pathways called "gallery tunnels."
As termites spread their populations throughout your home, their activity weakens wood over time, compromising the structural integrity of your house. In order to effectively protect your Frisco home from the dangers of a termite infestation, we highly recommend professional pest control services. Here at Mayco Pest and Termite Control, we have the expertise to protect you from termites all year long. Contact us today to set up an initial service visit with one of our certified pest technicians.
Five Easy Ways To Keep Rodents Out Of Your Frisco Home
If you've ever wondered how rodents get into homes and businesses, you're not alone. Mice and rats are sneaky pests that can fit through even the tiniest of openings, even holes the size of a quarter. Although you can't necessarily stop rodents from being attracted to your property, you can most certainly take the steps necessary to dissuade their approach.
Here are five simple methods of rodent prevention around the Frisco area:
Keep your landscaping trimmed and tidy.
Store food in airtight containers.
Lock down your garbage can lids, especially if you have repeat offenders.
Repair any cracks or holes in your foundation or walls immediately.
Monitor the property for any signs and symptoms of rodent activity, including rats and mice.
With so many potential attractant factors, suffice it to say that rodents could infest your home at any time. Rats, mice, and even squirrels can find a way to infiltrate almost any building, no matter how secure it may seem.

This is where Mayco Pest And Termite Control comes into play. With years of experience managing rodent infestations in Frisco, we can protect your residential or commercial property. Contact us today for details.
What To Do About Spiders In Your Frisco Home
Any kind of infestation can have negative impacts on your Frisco home, even nuisance creatures like spiders. While not all species are venomous, all arachnids are disturbing and disruptive visitors. Should there be a large number of them inside the house, you and your household may be facing a serious secondary pest infestation.
If you're currently experiencing a spider infestation around your Frisco home, it may be wise to start taking proactive steps immediately. Start by taking pictures of the spider infestation, and documenting any unnatural movements. Where are the webs located? Are they expanding? Keep an eye on spider population levels over time. If you notice egg sacs or baby spiders wandering around the home, you may be experiencing a serious infestation.
If you know for certain that a secondary pest has taken over your home, a spider infestation is almost sure to follow. Spiders prey on pests like ants, mosquitoes, and flies, so another pest problem in your home can attract spiders as well. If you've noticed an increase in pests of any kind, contact the professional pest control team at Mayco Pest And Termite Control.
Mayco Pest And Termite Control is a proud provider of spider control here in Frisco, offering solutions that stand the test of time. Learn more about our spider control solutions and how they can help your home by calling our office today.
Bed Bug Prevention Is Possible In Frisco
One of Frisco's most common pests is the bed bug, a parasitic insect with a predisposition for human activity. While they may not spread illness or disease, long-term infestations have the potential to cause anemia, secondary bleeding, and even insomnia over time, not to mention the stress and anxiety associated with an infestation.
It's clear that bed bugs pose a significant risk to both residential and commercial properties. But contrary to popular belief, infestations are not an inevitable outcome of living in Frisco. You may not be able to limit your exposure completely, but there are some steps you can take right now to reduce your risk of infestation.
Start with the following techniques:
Wash your bedding on a regular basis.
Vacuum your floors and upholstery frequently.
Avoid secondhand furniture and clothing.
Inspect your luggage after traveling.
Keep an eye out for the signs of bed bug activity, including bites on exposed skin or dark spots on linens.
If you're still concerned with the probability of a bed bug infestation in Frisco, or if you believe you may have already been exposed, Mayco Pest And Termite Control can help. Submit an online contact form today to chat with an experienced technician.
Tick Prevention Tips Every Frisco Homeowner Should Know
Many home and business owners in the Frisco area are familiar with ticks, an arachnid that is well known for spreading viruses, bacteria, and other diseases. These pests are not picky creatures, and infest any backyard that houses human or pet activity. The best way to avoid a tick infestation in the Frisco area is through prevention, particularly with the following tips:
Remove all standing water from your property, including puddles, birdbaths, and kiddie pools.
Trim any tall grasses or weeds around the perimeter of your home.
Keep your lawn mowed on a regular basis.
Place a layer of wood chips or mulch between your lawn and any flowerbeds.
Inspect your pets regularly for ticks, and groom them frequently.
If you have any questions about tick prevention in your Frisco lawn, or if you would like to schedule a consultation and treatment, please reach out to Mayco Pest And Termite Control today. We provide holistic inspections and product applications that remove ticks safely, without putting you or others in the path of danger.
Call, click, or submit a contact form to our team today to discuss our local tick control services and let us help you enjoy your yard again.
Request Your Free Inspection
Complete the form below to schedule your no obligation inspection.